19 Fun DIY Christmas Ornaments for Kids
As a kid, I LOVED doing crafts!  Especially holiday crafts!
And since Christmas is a coming, I decided to round-up of some fun and easy handmade Christmas ornaments.
I think Christmas decorations that you make yourself are the best.  I feel like it makes it more special with a personal touch to it.
My Grandparents still put up Christmas ornaments on the tree that my Dad and his siblings made!
And I love the idea that you can use items like these for years to come.
Alright, time for the reason you came here!
Have fun making these DIY Christmas ornaments for kids!
You can also start preparing for Christmas with this Printable Christmas Planner.  This planner comes with everything you'll need to help you stay stress-free and organized for the holidays.
CLICK HERE TO GET THIS CANDY-CANED-THEMED PRINTABLE CHRISTMAS PLANNER!
(This page may contain affiliate links which means I may earn a small commission at no extra cost to you.  You can read my full disclosure policy here.)
Children's Christmas Tree Decorations
Clothespin Snowman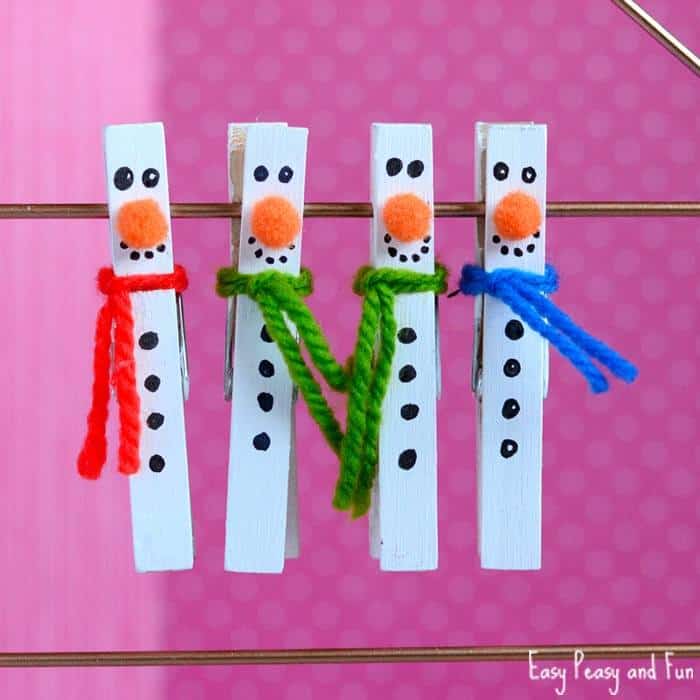 This Clothespin Snowman by Andreja at easypeasyandfun.com takes a new and creative spin on clothespins!  She shows you how to turn these little guys into a cute and festive item that will look great anywhere you put them!  And they're super easy to make for your little one.
Name Candy Cane Ornaments
Kids love personalizing things!  Making something with their name on it that they can put on the Christmas tree will make them feel even more special!  You can find out how to make this Name Candy Cane Ornament at fun-a-day.com.
Pasta Noodle Christmas Tree
What else can you do with pasta noodles?  Make Christmas trees!  Who knew?  You can learn how to make these cute Noodle Christmas Trees by Kim at thebestideasforkids.com. She'll show you how to make them on paper AND into a decorative Christmas ornament!
Character Christmas Ornaments
These Character Christmas Ornaments by Amber at crazylittleprojects.com are so cute!  And I'm sure your kids will have a blast making Christmas ornaments of some of they're favorite cartoon characters.
Cinnamon Stick Christmas Tree
This handmade Cinnamon Stick Tree Christmas Ornament by consumercrafts.com not only look super cute but will make your room smell Christmasy!
Pinecone Reindeer
These Pinecone Reindeer by kidscraftroom.com are literally too dang cute!
Snowman Toilet Paper Roll

Who doesn't love a good snowman?  And you can make it from what's in your house right now!  A toilet paper roll!  You can find out how to make this children's Snowman Toilet Paper Roll Christmas decoration at easypeasyandfun.com.
Popsicle Stick Snowflake
I love how beautiful Popsicle Stick Snowflakes look.  You can find how out to make this simple handmade Christmas ornament at thebestideasforkids.com
Ribbon Christmas Tree Ornament
At firefliesandmudpies.com you can learn how to make these cute little Ribbon Tree Ornaments.
Christmas Photo Ornament
Looking for photo ornaments for kids to make?  These DIY Christmas Photo Ornaments by Racheal at iheartcraftythings.com are cute and easy Christmas ornaments to make with your kids.  And would work as a great Christmas gift for Grandma!
Christmas Straw Wreaths
Angela from projectswithkids.com shows you how to turn paper straws into cute mini Christmas tree ornament wreaths.  These Paper Straw Wreath Ornaments are easy to make and beautiful to look at.
Salt Dough Santa Handprint Ornament
Make something that's cute and memorable with this Salt Dough Santa Handprint Ornament at easypeasyandfun.com.  Years down the road you can look back and remember how small your little ones have grown.
Twig Reindeer
How cute is this Twig Reindeer Ornament??  Melissa at firefliesandmudpies.com shows you how to turn these simple items into a cute little reindeer!
Snowman Handprint Ornament
I love this idea!  You can learn how to make this cute Snowman Handprint Ornament by Mary at fun-a-day.com.
Pompom Popsicle Stick Stars
These Colorful Popsicle Stick Stars by Emma at kidscraftroom.com are so warming and pretty.  Your kids will love making these easy handmade Christmas ornaments.
Perler Bead Ornaments
Learn a new way to use beads with this children's Christmas Perler Bead Ornament decoration by Tove Maren at mamainthenow.com is something the kids will enjoy making.
Sesame Street Ornaments
Who doesn't know who The Cookie Monster and Elmo are?!  Check out how to make these cool Sesame Street Ornaments at heyletsmakestuff.com.
Cookie Cutter Picture Ornaments
Put a picture of your little one on the tree!  You can make these Photo Cookie Cutter Ornaments at cleverlysimple.com.
Bottle Cap Snowman Ornaments
These little Bottle Cap Snowmen at amylattacreations.com are fun Christmas ornaments to make with the kids!
Other Christmas Posts You Might Like:
Stocking Stuffers for Babies and Toddlers
Free Wish List To Santa Template
Printable Christmas Activity Pages for Toddlers
Magical Christmas Traditions to do with Your Family
Have fun making these fun DIY Christmas ornaments for kids!  And if you liked this post be sure to share it!  Thanks!