32 Best Subscriptions for Toddlers 1-4 Years Old
Want a fun subscription to give to your toddler?
Well, look no further!
Here I've compiled the best subscriptions for toddlers.
From books to crafts, and exciting magazines, you're sure to find something special that your toddler will love.
The ones listed below are ideal for kids who are 1, 2, 3, and 4 years old.
You can keep reading to find out what they are.
(This post may contain affiliate links which means that I may earn a small commission at no extra cost to you. You can read my full disclaimer policy here.)
Best Subscriptions for Toddlers
Magazine Subscriptions for Toddlers
Ranger Rick Cub
Ranger Rick Cub is an animal magazine made for children who are 0-4 years old.
There they can learn and see different animals every month.
This is a great magazine for toddlers as it's simple and easy to read to them.
Ranger Rick Jr.
Ranger Rick Jr. is another magazine that teaches little kids about animals.
Though this one is recommended for kids who are 4 years old and up.
This magazine is filled with animal facts, stories, photos, fun activities, and more.
You can check out this toddler magazine subscription here.
Zootles
Zootles is another wildlife-inspired magazine by Ranger Rick.
You can start Zootles with kids who are 4 years old.
Each month it will showcase a different animal with lots of photos, illustrations, and facts.
It also incorporates different learning concepts like letters, numbers, and up/down.
You can learn more about this magazine here.
Ladybug
Ladybug is a kid's magazine that's filled with songs, poems, activities, and stories.
It's recommended for kids 2-6 years old.
AND it's #4 in Educational Children's Magazines on Amazon.
You can get started with their subscription here.
Babybug
Babybug is a great choice when it comes to choosing your baby's first magazine!
This subscription is ideal for 6 months – 3 years old.
Though many parents have said that even their preschoolers enjoy reading this educational magazine.
You can read more about this toddler magazine subscription here.
Highlights High Five
High Five is a magazine for children 2-6 years old and is created by the company, Highlights.
This fun-filled magazine is filled with stories, puzzles, poems, and silly riddles.
It is also #4 in Magazines for Ages 4-8 on Amazon.
You can check out this magazine here.
National Geographic Little Kids
National Geographic Little Kids is a nature magazine and is ideal for kiddos 3-6 years old.
Inside you'll find games, crafts, science activities, stories, and fun pictures.
With this subscription, you'll get an issue every other month.
Click here to check out what it has to offer.
Book Subscriptions for Toddlers
Ranger Rick Book Club
The Ranger Rick Book Club is perfect for kids who love animals!
This book club has 3 different subscriptions Critters Up Close (for kids 0-3 years old), Reading with Ricky (for ages 4-6 years old), and Ranger Rick Adventures (for kids 7 and up).
Each month you'll receive 2 fun-filled animals-inspired books for your kiddo to enjoy.
You can sign-up for the Ranger Rick Book Club here.
Bookroo
This book subscription is made for babies, toddlers, and kids all the way up to 12 years old.
When you sign-up for Bookroo you'll receive fresh new reading material every month so you can start building your book collection.
The books sent (depending on which Book Club you choose anyway) will be age-appropriate so your child will stay engaged with the stories.
You can sign-up for this toddler book subscription here.
Little Fun Club
This book club is for anyone between the ages of 0-12 years old.
So this would be a great option if you have a little baby you want to gift a subscription to.
Each month you will be sent 2-3 books for you and your child to read together.
You can join the Little Fun Club subscription here.
Imagination Library
The Imagination Library is a great book subscription that you should definitely try to join!
When you sign-up your child will receive a book every month.
And guess what?
This program is totally FREE!
Though it is only available for kids who are 0-5 years old.
After they reach the age limit it stops.
You can check if it's available where you live here.
Kids Reveal Book Box
With the Kids Reveal Book Box, you'll get 3-4 books a month at a super-discounted rate!
You'll save about 50% on every book in your box.
The books chosen will be based on your child's interests and age.
Something that I think is pretty cool about this book subscription is that with every box they send they donate a book to a child in need.
You can get the Kids Reveal Book Box for your child here.
Reading Bug Box
The Reading Bug Box is a book subscription for kids of all ages (yes even newborns).
Every month your toddler will receive books that are age appropriate that have been hand-picked by their book experts.
And every few months they'll send a card so that you can list any new interests that your child has to help personalize your subscription.
Plus sometimes you'll get sent a little gift along with your books!
You can sign-up for the Reading Bug Box here.
Literati Kid's Book Club
Your kids can enjoy this book club from when they're babies all the way til 8th grade.
How it works is every month your toddler will be sent 5 books.
Then you keep the ones you liked and send back the ones you don't.
Literati personalize-picks will help them send books that strike your child's interest.
You can check out this book subscription here.
Dr. Suess and His Friends
If you love Dr. Suess books then you'll love this!
With this book subscription, your child will get Dr. Suess books sent to them every 3 weeks.
When you sign up you can select a free gift and the books you want to receive in your first package.
Plus you can change the frequency, the number of books in your package, as well as cancel at any time.
You can get started with this book club here.
Disney Hooked on Reading
Disney has lots of great movies, but did you know that they also have books?
Yes, Disney has a book subscription where your toddler can be mailed Disney books every 3 weeks.
When you sign-up you will receive a free gift along with the package of books that you selected.
You can also change and cancel your subscription at any time.
Sign-up here to start receiving Disney books.
Geography & Science Subscriptions for Toddlers
Green Kid Crafts
Green Kid Crafts offers STEM and STEAM-filled boxes for kids as young as 3 years old.
Each box contains 4-6 science and art projects for your toddler to enjoy.
And I love how each box has a different theme for them to explore.
Plus you'll receive a 12-paged magazine to help support and encourage learning.
You can buy your toddler this science box subscription here.
Code Spark Academy
Code Spark is an app subscription where your little one can learn REAL code through play.
This app promotes basic problem-solving, creativity, logical thinking skills, and persistence.
And their games and puzzles can help with reading, math, and pattern recognition.
You can get Code Spark's 7-day free trial here.
Little Passports: Early Explorers
This subscription box for toddlers will take them on a new global adventure every month.
Your little one can enjoy doing fun hands-on activities, games, puzzles, and crafts.
Different adventures you can expect are Natural Wonders, Oceans, Animals, Space, and MORE.
And in your first kit, you'll receive a Little Passports suitcase, a wall-sized, map, a booklet filled with activities, games, puzzles, and fun facts, a pop-out play set, and stickers.
You can sign-up for the Early Explorer subscription box here.
Little Passports: Animals Wild
With Animals Wild your children can learn all about the animals of the world.
They'll be able to learn about these animals through hands-on play, games, activities, and fun facts.
While they learn about new animals every month they'll also learn about their habitats.
You can check out the Animals Wild subscription for toddlers here.
Craft Subscriptions for Toddlers
We Craft Box
This award-winning Arts and Crafts box is made for kids 3-9 years old.
Each box has all the materials needed for 2 little crafters with 4-5 different crafts inside.
And you'll get access to video tutorials for the crafts!
This is a great box for you and your kids to have fun and get creative.
You can grab your first We Craft Box here.
The Kids Craft
This fun craft box subscription is great for kids between 3-9 years old.
Every month you'll receive 4-5 engaging crafts in your box plus enough materials for 2 people.
You'll also get easy-to-follow instructions, fun facts, and even a themed story.
Click here to get this craft box for your toddler.
Koala Crate
The Koala Crate is a craft AND science box subscription.
This box encourages play-based learning for children who are 2-4 years old.
In your box, you'll find DIY activities, projects, games, and puzzles.
Each crate will expose your toddler to different subjects like early math, numbers, pretend play, stacking, animals, and more.
You can get started with this subscription here.
Educational Subscriptions for Toddlers
Hooked on Phonics
Looking for a good reading subscription for your toddler?
Hooked on Phonics is a fun way to teach your child to read!
Every month you'll get access to their Learn to Read app, workbooks, fun stickers, 2-3 books based on the lessons they've learned, and tips to keep the learning going throughout the day.
And each session takes only 20 minutes or less.
You can sign-up and receive a free trial of Hooked on Phonics for just $1 here.
Homer
Homer is another learning app where your child can learn about math, reading, thinking skills and more.
You can start this app with toddlers as young as 2 and 3 years old.
All in all, this is a great educational app for toddlers.
You can start your 30-day free trial of Homer here.
ABC Mouse
ABC Mouse is an educational app for 3-year-olds and up.
With this monthly educational subscription, your child will have access to more than 850 lessons as well as over 10,000 different learning activities to enjoy.
Subjects your toddler will be able to explore include reading, math, science, and art.
Sign-up and get your first 30 days free of ABC Mouse here.
Noggin
With the Noggin app, your kids will be able to learn along with their favorite Nick Jr. characters!
When you sign-up you'll get access to their library of educational ebooks, activities, games, and learning videos.
Some of the things your child will learn with this app are math, problem-solving skills, emotional learning, and fine motor skills.
Noggin is also completely ad-free!
You can try Noggin for just $0.99 for your first 2 months here.
The Preschool Box
This box subscription includes fun hands-on learning activities for preschoolers.
Each month you'll receive crafts, activities, and a book, along with a parents guide.
When you sign-up you'll get 12 boxes for 12 months of learning and can cancel at any time.
Get activities that encourage reading and creativity with The Preschool Box here.
Little Global Citizens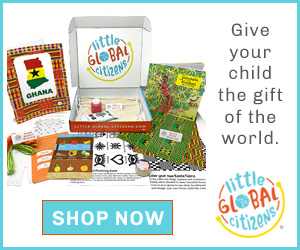 This unique box focuses on learning about countries and cultures around the world.
Every 2 months you'll get a different country to learn about.
Inside the box, you'll find crafts, recipes, activities, an authentic guide, a book, and more.
​And if your child has another sibling they'll send a second set of the crafts and activities.
You can grab this subscription box for your toddler here.
Fun Learning Subscriptions for Toddlers
Oyster: Profession Activity Kits
This subscription box offers a fun way for kids to learn about new professions with hands-on play.
Each month your toddler will get a box that's themed around a certain profession.
Each box comes with 3-5 experiments, a costume that they can role-play in, and a magazine with puzzles and games, plus you can find additional activities for each profession online.
I also like how each box focuses on certain developmental skills.
You can try out this fun STEAM learning box here.
KidStir: Cooking Kits
With this subscription, you and your child can develop new skills in the kitchen.
In their cooking kit, you'll get 3 recipes for you and your child to cook together, a kitchen tool, a food magazine with fun learning activities, a grocery list, and achievement stickers
And with each subscription plan, your child gets a free hat and apron.
Start making memories in the kitchen with this cooking box here.
Panda Crate
If you have a little one who's between 0-24 months then you should definitely check out this box!
The Panda Crate helps nurture curious minds while they play and explore.
Each box comes with 4-6 age-appropriate products, child development content as well as brain-building activities.
They also include a magazine and activity cards for parents that contain strategies and helpful tips that you can use.
You can get the Panda Crate here.
When Can I Start These Toddler Subscriptions?
You can begin any of these subscriptions at any time.
The only time you may want to think about waiting to sign-up for one is if your child isn't quite old enough to grasp certain activities.
Such as the cooking box subscription above.
It may not be the most ideal for 2-year-olds but 4-year-olds would understand it much better!
Can I Give a Subscription Box as a Gift?
Yes!
A subscription box is a great gift idea, as with many of the subscriptions you can pay for 3 months or more at a time.
These would make a wonderful birthday or even a Christmas present for any toddler.
Other Posts You May Like:
Best Tips for Getting Your Toddler to Eat Veggies
Potty Training Hacks to Learn Today
Essentials for When You Being Potty Training
What kind of subscriptions are you looking for for your toddler? Which of these toddler subscriptions do you want to try? Let me know below in the comments! And if you liked this post, give it a share. Thanks!